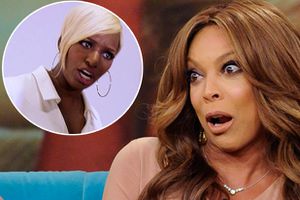 We all know who Wendy Williams is. She's the outspoken daytime tv show host of the self named Wendy Williams show. Her tagline is to say it like she means it, according to her she "gives it to you straight with no chaser". Talking about any and everybody's business has never been a problem for her. She's always happy to share her opinions on celebrities and their situations and while she can be entertaining, some of her comments are just downright vicious and nasty. She's had unkind things to say about the likes of Rhihanna, Beyonce and most often Kanye West. When it comes to Kanye West I have to admit she admits like she has a very personal problem with him. When he got married to Kim Kardashian, Wendy went as far as to say the marriage wouldn't last a few months and that if it did she would eat crow. While she was forced to eat crow on your show, it hasn't deterred her incessant shade throwing at Kanye. If really sounds like those two have some personal history.
In the past week or so, there have been many reports on gossip websites and youtube channels about trouble on her show because of how controlling her husband, who is also a producer on the show is. His name is Kevin Hunter just like her son. It is claimed that he wants to okay all the scripts for the show, approve the guests who come on the show and all interviews.
There have been suggestions that he has been "allegedly" (one of Wendy's favourite words on her show when she is about to share some gossip about a celebrity), physically and verbally abusive to her. If this is really the case why does Wendy put up with it? There have been rumours of affairs with other women and some have even claimed the show is close to firing him.
Wendy comes across as a strong, confident, experienced and knowledgeable women who has been round the block a few times. However whenever you listen to her stories of what she got up to over the weekend, they hardly feature her husband. Is this an indication that they don't spend a lot of time together? Could this be an indication of the state of their marriage, or is this intentional because they need some space away from each other after spending the whole week working together? It's really hard to say. The latest season of her show starts in September and one hot topic we're sure she won't be covering next season is the state of her personal life and marriage. This is definitely a case of double standards.
In the past she has never had a problem or shown any hesitation when it comes to talking about other people's marriages. Probably at times when the couples involved themselves have been going through a very tough time. Perhaps she may learn a lesson and realise how offensive her comments have been. Perhaps she may get a taste of her own medicine. Or perhaps she'll remain a loud mouthed show host, only time will tell.